The absolute best place to spend all of you food money when in Barcelona. Once we found Juicy Jones we couldn't come back enough. They stole us away from going back to Vegetalia as we had planned.

There are two Juicy Jones locations: Cardenal

Casa
ñ
as

7 (just off Rambla) and Hospital 74. We only went to the Cardenal
Casa
ñ
as
location. I hear Hospital is the larger of the two.

Juicy Jones is awesome. AWESOME!! Ok, must not get too excited and focus. I'm ok now.
I wanted to eat everything. It was all so tasty. Tasty and vegan. The decor is bright, funky, graffy but the furniture is clean and basic. Even though the walls are really busy it's not over whelming. The above photo is of the bar as you walk in. At first appearance it's just a simple bar and a tiny shop but behind me is the restaurant dining area pictured below. You can order and eat at the bar or grab a table. We tried both and I'd recommend a table for a full meal but the bar is perfect for a milk shake and hummus.

Our first visit consisted of a cookie. We accidentally found the place wandering around and had already eaten lunch but I had to get something. When we came back we took things more seriously with some hummus and a couple milk shakes (they use soy milk for these). Lex got the Fruit Slam: mango, pear, strawberry, papaya, soy milk, sugar and ice. I saw chocolate and I couldn't turn away, I tried the Banana GoGo: banana, cocoa, soy milk, coconut, cane sugar and ice. These were so so so so yummy. The hummus was also super yummy.

The next time we came back it was with the intent to eat a full meal. After careful consideration we ordered from the Menu del Dia.

1. Sopa/ensalada (soup or salad)
2. Thali/Plato del dia (Indian plate or plate specials)
3. Postre (dessert)
From the listings on the specials board we went with a good sampling of items.

Lex got 1. Hummus (he really liked this hummus) 2. Nidas de Patata con setas y queso vegano y ensalada de judias. No pics of the hummus but this was a kinda potato and vegan cheese pie with a green bean salad. Really good and comfort foodie.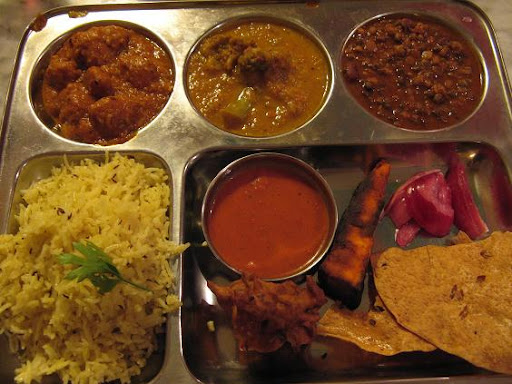 I went for 1. Crema de Calabacin (cream of zucchini soup) 2. Thali (Brocoli masala, papad dam, onion, bhajee, mixed dal, mixed veg, plain rice, chatni itimati. No pic of the soup but it was lovely. As was the whole Thali plate. Lex helped me polish it off in the end. We both thought it was the business.

Dessert - Biscuit de Pi
ñ
a y Crema de Chocolate. They were a good size though, just a little bite to finish off the meal. I got the last Crema de Chocolate, score!
We were stuffed to the rafters after this meal but it was so good. Could not stop eating. All this food came to 8.50€ per meal. An awesome deal as this was far too much food. We could have shared one. This also comes with a beverage. Water (bottled in glass) or wine. You can also just get one of the main dish specials and the juice selection of the day for 7.95€. Probably a slightly healthier option than stuffing yourself sillybut for the extra 0.55€ get the appetizer and dessert and share with a friend.

The next time we came back we tried something else from the printed menu which never grows tiresome to look at.

To have a closer look at the menu you can click the picture and zoom in. They have this menu bound to look at in the cafe but this one was nicely displayed at the entrance for people to peruse the selection.
To drink a Strawberry Mary (another milk shake of strawberries, papaya, soymilk, cane sugar and ice) and a mixed juice of beet, ginger, carrot, orange, and lemon. Both were to die for naturally. And for our chewing pleasure, sandwiches.

Toscano: hummus, green beans, sundried tomatoes, onion and spinach.

Tofu: oven baked tofu, avocado, carrot, scallion, sprouts, lettuc
e, and ginger satay sauce.


So in conclusion we would like to offer our services in opening a Granada (that's where we are at the moment) branch of Juicy Jones. WE LOVE JUICY JONES!! Get your tapas, salads, sammies, huge meals, sweets and drinks here!